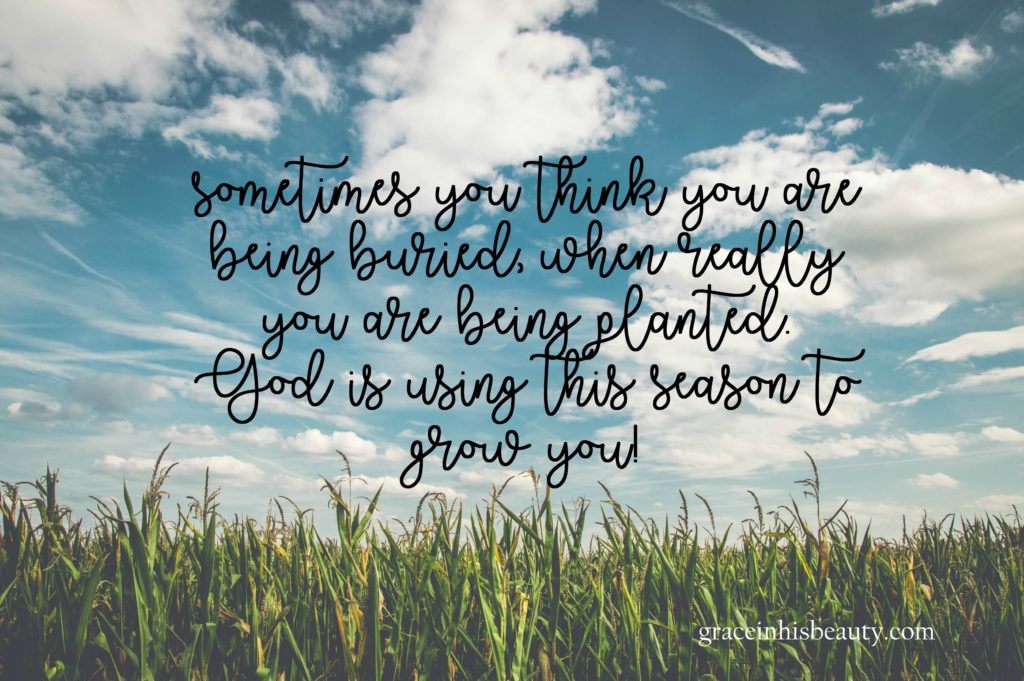 "Sometimes you think you are being buried, when really you're being planted. God is using this season to grow you." I woke up this morning with this quote on my heart because it was another day that I woke up in pain. I fell asleep in pain, tossed and turned through out the night in pain and woke up in pain. I am not telling you this for sympathy, I am telling you this because I feel that if I don't I am not being honest with you. Life is not always sunshine and rainbows. Some days, or in my case months are filled with pain and all you can do is cry out in frustration. I wake up every day praying the Lord will go before me and heal my pain. I don't always feel 100% better but I do feel God's peace and the pain decreasing. He is my hope when all else feels hopeless.  
The Lord is my STRENGTH and my SONG. He has given me VICTORY! Psalm 118:14
Do you ever feel like you're life is not going as it "should be." This could mean physical or emotional pain or just when you feel like things, dare I say it, aren't fair. When I feel most out of control, it almost makes me feel at peace because then I know that God is working things together for me, for GOOD! Yes! Read that again, because it is so good. Especially for us control freaks. Yes I admit I like to be in control of things….but as I've gotten older I have become more at peace with the fact that I don't need to be and in fact, I don't want to be in control. I want God to be!   
Let Go and Let God!
Give God the little things. The big things and everything in between and He will turn your test into a TESTIMONY and your mess into a MESSAGE! He can and He will.
So what do you do when you can't find the strength to keep going on? When the days, weeks and months quickly become a blur because you're trying to keep your head above water. When the constant pain, either mental or physical becomes too much to carry….don't. Don't carry it anymore. Leave it at the feet of Jesus. He is our strength. Our healer. Our friend!
Sweet friends, I know how it feels to be in pain everyday. I know how it feels to wake up and wonder why you are even going to get out of bed. But we have to keep moving forward, because if we aren't moving forward….we're moving backwards. God has called us for great things. He made you and He will carry you. He created you for a purpose! Share your story, it may inspire and encourage someone else to keep going.

I am praying for you. I am praying as you read this that you will get the strength to keep going on the hardest of days. Cry out to the Lord. He is there waiting and listening.
Hugs!
xo,
Elizabeth