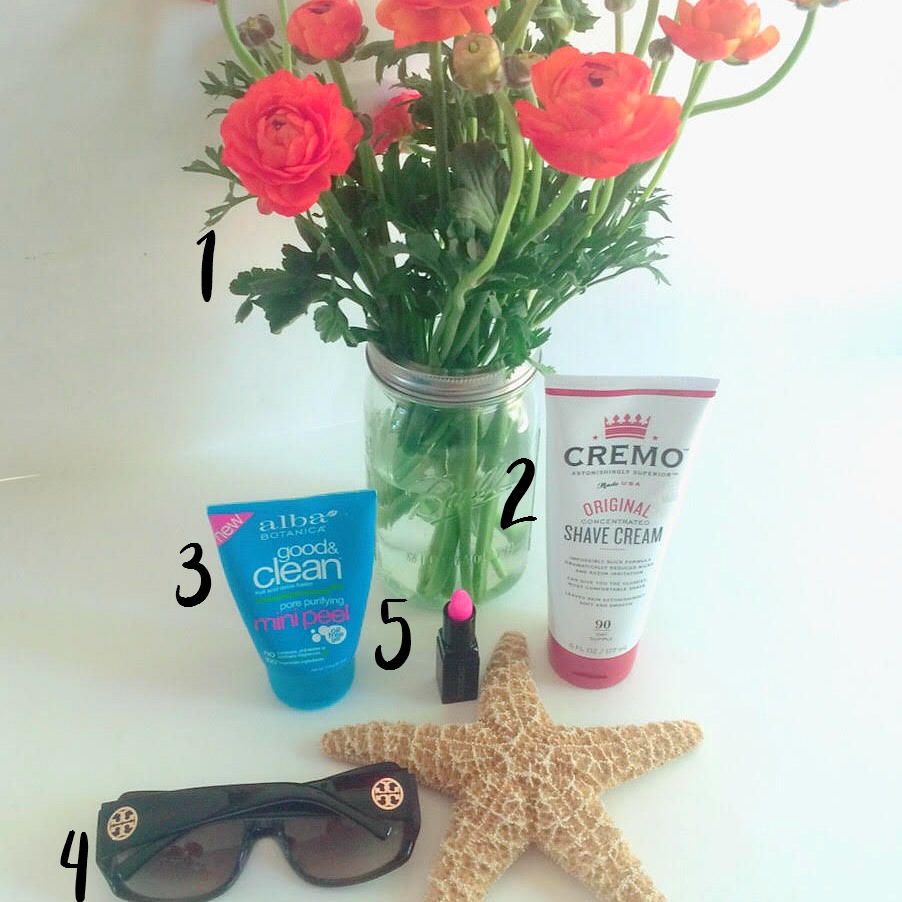 Summer is here! Can you believe it? I can't. Heck, I'm still thinking it's 2015. ;) I decided to start a new series here on Grace in His Beauty with some of my favorite things in different categories. I will be sharing monthly with favorites ranging from beauty products to kitchen tools and every thing in between. This month I am sharing a few favorites to get you feeling fresh and ready for Summer and all it has to offer! 
1. Fresh flowers! I mean who doesn't love fresh flowers? They won't brighten your skin, but they will brighten your day and make you smile :) which will help you look beautiful because, beauty is a light in your heart! And don't you forget that!!
2. Cremo Shave Cream I had to share this with you even though it might seem silly because trust me, it is AMAZING! My husband bought this for himself and then told me about it for my under arms because I have super sensitive skin and growing out  my armpit hair isn't really an option. haha ;) This stuff works wonders. It gets such a close shave without irritating my skin. I highly recommend this for anyone man or women with sensitive skin.
3. Alba Botanica Pore Purifying Mini Peel This mini peel is perfect for brightening up your skin in a matter of minutes! I am usually more of a high end face product girl. Normally I will find my skin care products at my Aesthetician's office or a specialty boutique or Nordstrom. I'm happy to say though that this mask actually works just as well if not better than my masks that are 8 times the price! Alba Botanica Good & Clean Pore Purifying Mini Peel is a combination of fruit acid, salicylic acid and willow bark extract. It is perfect for a quick, last minute facial before an event or party because it only needs to sit on your skin for 1-5 minutes. I usually keep it on for 5 minutes, but I recommend for your first time using it, starting at 2 minutes just to see how your skin reacts. It will instantly brighten your skin and make you feel fresh and ready for the day! I absolutely love it!
4.Tory Burch Sunglasses A good pair of sunglasses is a must have. I have SUPER sensitive light green eyes so I can not even walk out the front door without sunglasses on. I think everyone should invest in a quality pair of shades. This is a link to my most favorite sunglasses ever. I have three pairs of these! ;) They completely cover your eyes to protect them and that is a must with sunglasses. It also doesn't hurt that they are super cute, right?! ;)
5. Smashbox Lipstick My last favorite beauty product for brightening up your Summer days is a bright lipstick! You may want to go light on your make-up or even make-up free for pool or beach days, but a pop of pink on your lips will go a long way! :) One of my current favorites is Smashbox Talk To Me Matte lipstick. It is bold and stays in place which is always nice for Summer days when you don't want to worry about your makeup.
If you have any questions about any of these products please let me know. I have no connection with these products, they are just things I like and want to pass on to you! These are my honest opinions. Hope you enjoy them too!  If you have a category idea you want me to share about let me know. Or, if you have a product you want shared also please feel free to contact me.
xo,
Elizabeth