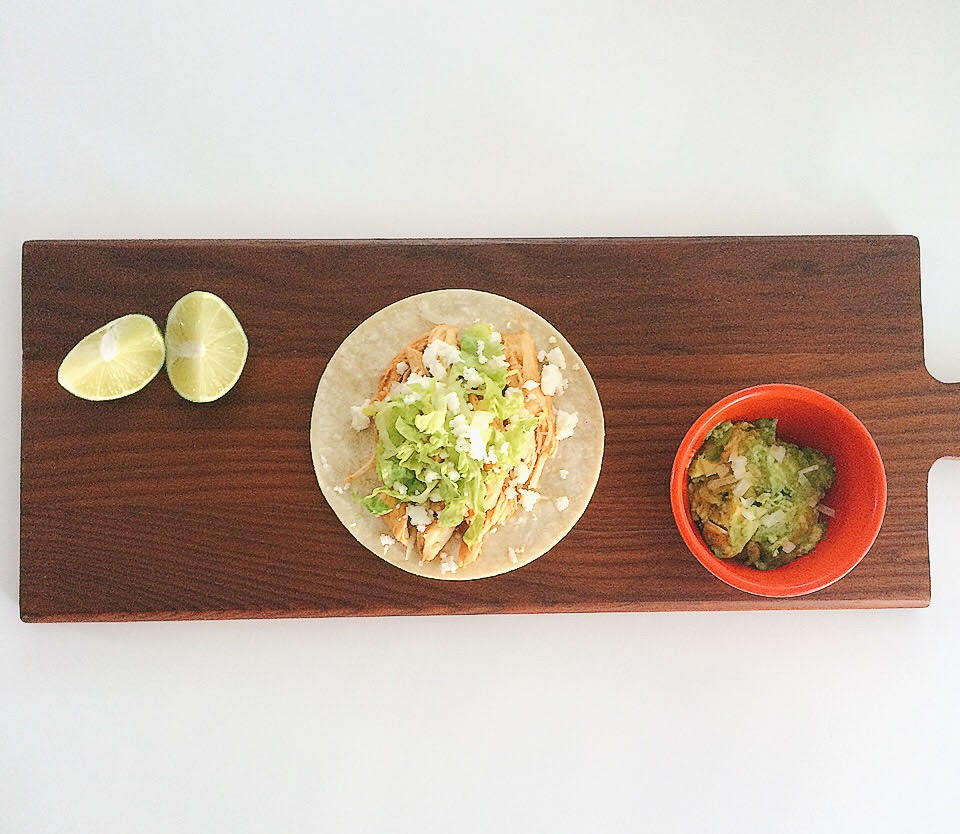 I think it's pretty safe to say, I could eat Mexican food every day. And if we're being honest….Sometimes I do ;) Even though I am Italian and Portuguese, I have always loved cooking Mexican dishes and probably cook them more than any other type of food. Second would be Italian, but that's for another post. :) I like keeping my recipes fairly simple and usually do not use measurements so I apologize in advance for this and any future recipes that confuse you. ;) hehe. I say, use your best judgement and cook with your heart! Cheesy, I know, but true!
I used boneless skinless breasts, but you could use any type of chicken you wanted. Just make sure to adjust your cooking time accordingly.  This recipe will easily feed 4 people.
2 Boneless skinless chicken breasts (I use 2 for three people and we usually have leftovers. It depends on how big you are making your tacos and how many people you are feeding. I think 1 chicken breast per 2 people is easily enough.)

1 can of Chipotles in Adobo

1 bunch of Cilantro

2-3 Limes

Queso fresco (or Monterey jack cheese) for topping

Corn tortillas

Green onions

Yellow or white onion for topping

Shredded cabbage or lettuce for topping

Tomatoes, diced up for topping

Garlic powder

Cumin
Squeeze the juice of one lime (if your lime is not very juicy, use 2.)  over chicken breasts.

Season breasts with cumin & garlic powder.

Pour 1/2 of the can of

chipotles

over the chicken. (they are a little spicy so if spicy is not your thing you may want to add less.) I add more though cuz me and spicy are BFFs. ;)
Rough chop 3 green onions, rough chop 1/2 bunch of cilantro & put all of it on top of the

chicken

so it covers the breasts.

Cook at 350 for 25 minutes or until done. (of course you'll need longer depending on how big the chicken breasts are or if you have bone in meat.)

Shred the chicken. I use 2 forks and shred apart. Shredding the chicken allows it to absorb more sauce and such so it will taste a lot better….or at least I think so. :)

Add the juices from the baking dish and a little more chipotle sauce if you dare ;) the juice of half a lime, along with your shredded 

chicken

in a large skillet to combine all the goodness! :)

You can fry the tortillas lightly in a little oil or just warm them in the microwave/oven for a minute. Your choice.

Assemble as you wish and enjoy!
Any questions? Probably since this recipe doesn't have measurements. haha ;) Feel free to ask! I'm happy to help if you need it. :) Enjoy!!
xo,
Elizabeth